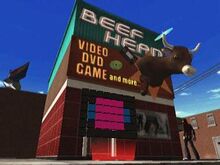 Beef Head is a fictional establishment in the 2007 video game No More Heroes. It is the local video store in Santa Destroy, California. It is run by Bishop Shidux, an expert on supposedly every feature ever filmed, and a friend of Travis Touchdown. Here, locals can find everything from "the latest Japanese anime to bootlegs from Northern Europe." Travis can purchase several imported professional wrestling videos at Beef Head; it is also revealed a number of times throughout No More Heroes that Travis has even rented pornographic films which have yet to be returned. Beef Head is open to Travis anytime after he ranks eighth in the United Assassins Association.
In Travis Strikes Again: No More Heroes, Beef Head would later be taken over by Bishop's younger brother, Buzariashvili (also called Bishop by Travis) after Bishop's death from the previous game. He reopens Beef Head as a video game store.
Video Vol.1
Edit
Video Vol.2
Edit
Video Vol.3
Edit
Video Vol.4
Edit
Other videos
Edit
Aside from Mask de Panther, the Tiger's Roar, Living Legend, Thunder Ryu, Mask de Panther, Master of the 4th Dimension and the unnamed video depicting Thunder Ryu's famous seventh match, there are several other recognized films Beef Head rents as well, though pornographic in nature. These are 69 Techniques to Improve Your Lovemaking, Air Force One: The First Lady Returns to the Mile High Club, Big German Jugs: Collection #23, Coffee and MILF, French Maid Café: Spilled Coffee, How to Please a Woman in Bed 101: Part 2, How to Please a Woman in Bed 101: Part 3 and The Best of Raunchy Amateur Interviews 2. Also, Beef Head may rent Pure White Lover Bizarre Jelly releases, as implied by a poster by the front counter and the store's Santa Destroy Guide entry stating they carry Japanese anime as well.
Santa Destroy Guide entry
Edit
Main article: Santa Destroy Guide
The everyman's video store. Shelves lined with everything from the latest Japanese anime to bootlegs from Northern Europe. Bishop Shidux, the owner knows all there is to know about every scrap of celluloid ever filmed.